The Diversity Impact Project is an initiative of the IE Diversity Factory to foster the Diversity Action learning effort for IE MBA Students with the support of the partner companies.
The project takes a real diversity challenge of an existing company and, through a diversity team integrated by IE IMBA students, transforms this challenge into a real project that has an impact in the company and the community, and that the company can implement in the future.
The Diversity Impact Project serves as a substitute to the Final Exam, by allowing students to work with an organization (company, NGO or government) to create a positive impact within their business, the community, or society at large. The objective of the project is to provide an alternative that takes advantage of the business skills the students have obtained during their MBA for the purpose of creating a genuine impact.
Diversity Coffee chats: 'wHY dIVERSITY MATTERS' with Maria del mar Martinez, mCKINSEY
IE Diversity club and IE Women in Business club organized another successful event. Maria del Mar Martinez, Director from Mckinsey came to explain "Why Diversity Matters". There are two details in Maria del Mar career that tell us a lot about Mckinsey leadership as well as hers. She was appointed partner while she was on a part time program after her maternity making her one of the first female partners in Iberia.
After moderating her brilliant presentation I received several messages of students saying it was a great and inspiring conversation, and so it was indeed!
She combined corporate figures with personal insights, which is what I personally enjoyed the most.
73% companies set gender as a priority and believe there is a case, mainly focusing in two targets: best brains and coping with customer demographics. But more and more women want to be there, and although there is not a causality relation there is a correlation between those corporations having, not one or two, but three women at the top and a healthier bottom line.
Further to Maria del Mar there are still four barriers: Structural obstacles; life style, that is continuously changing, not only for women but also for men who are changing the balance of time and the way they devote to work; Institutional biases, for example, women are promoted more often further due to their performance and men for their potential; and lastly, the individual mindset.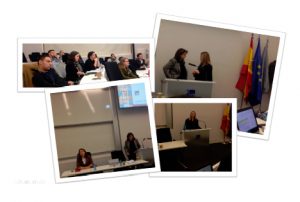 Diversity Coffee Chat Series: "Diversity in Standardization" with Jose Luis Díaz Manrique, Grupo Antolín
Jose Luis Díaz Manrique, from Grupo Antolín, shared very personal and relevant experiences about the difficult balance between quality control and diversity in such a complex global structure with the IE Diversity club and IE Women in Business club.
>Grupo Antolín is an automotive company that has very humble origins in Burgos (Central Spain) in a car repair family business. Nowadays it has more than 28,000 workers with facilities in 25 countries. In total 4 billion euros of revenue.
He started with a very funny story in which one of his colleagues tried to apply the motto they learnt at one of the quality update courses they attended "Standardization is the key to success", but we all know that, although you love all your children the same, you cannot treat them all the same. You deal with each of them in a different way. This is why Diversity is so connected with leadership.
When talking about RSC or Diversity policies they used to offer coffee for everyone but there is people who do not like coffee. He gave us a very good example regarding safety regulations that for Antolin are totally standardized no matter the country or culture. In all plants it is required to use safety shoes. In Morocco there was a huge rejection but, as said, there is not possible negotiation regarding safety. After some months the doctor of the plant reported that half of workforce had fungus in their feet. The reason was easy as they were not used to use closed-toe shoes, they did not have the habit to properly dry their feet after washing them during prayer. That was something they addressed by adapting the roadmap to the new reality but keeping the vision the same.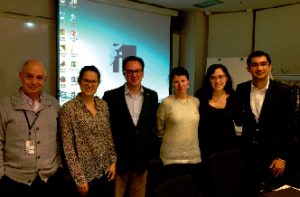 Diversity Coffee Chat Series with Amadeus IT Group
The IE Diversity club and IE Women in Business club had the pleasure of chatting with Malek Nejjai the Chief Diversity Officer for Amadeus IT Group. Amadeus is a technology company dedicated to the global travel industry. They are present in 195 countries and employ over 12,200 people worldwide. Ms. Nejjai shared valuable insight about her role and her organization, which she described as a "defacto diverse company." Here are some of the highlights from what we discussed:
ze: small;">1. Amadeus is a "defacto diverse company" because they were founded by 4 airlines from different European countries (Iberia, Air France, Lufthansa, and SAS) and therefore, their corporate culture is influenced by all the cultures from these countries.
2. In the IT sector they have experienced an exodus of female tech talent. She thinks one of the reasons is because men don't make it easy for women to work in this sector. She gave guys in the room great advice: "Consider what would you do if this were your sisters or daughters that encountered this cofee amadeus issue?"
3. Did you know? In the US, women make 77 cents of every dollar. This means women have to work 77 days more than men per year to make up for it. And in fact, we are only expected to reach parity until 2095!
4. For her, as the CDO, she always strives to make sure people feel comfortable because diversity impacts a company's financials, innovation, creativity and it breaks the status quo.
5. Diversity is a shared responsibility of people, society and companies and while Amadeus is not always publicly advertising their diversity initiatives, it is certainly a priority and at the core of everything they do.

IBM Always in the forefront
Teaching Diversity is a challenge. At present two paradigms coexist in apparent harmony, but are really just a mirage. Diversity has become in fashion and nobody can afford not to include it among their values. Like innovation, it is a "commodity" a "me too" that everybody "treasures" in their strategy. But how is diversity included in your strategy? Herring and Henderson talk about three different approaches.
On one hand, Blind Diversity Approach, is limited to celebrate difference. We can recognize this focus when we read annual reports of many multinationals that proudly share higher rates of feminine participation in their workforce. A thorough aggregation of the different charts reveals that in the end only a few heterosexual or closeted white men are those who lead and get the big bucks. But they are fully satisfied because they hire lots of women!
The Snowflake Diversity Approach defends that we are genuinely unique and to talk about diversity dimensions, like gender, or race, is to menace individuals. If Barack Obama has been able to reach the US Presidency Why have we to keep talking about black minority?
Finally, there is a third way to cope with it: Critical Diversity that assumes there is inequality and it is required to solve it. Those who prefer the two first focuses reject this one stating that it is advocacy.