INNODIVERSITY INDEX (IDI)
Would you like to know if your company is a reference in the management of diversity for innovation? Complete the InnoDiversity Tree and in a few minutes you will know how your company is positioned in Diversity, Innovation and InnoDiversity.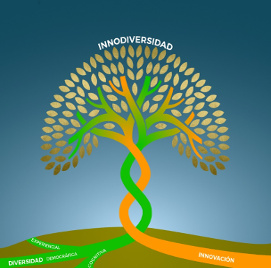 The InnoDiversity Tree (el Árbol de la InnoDiversidad) is the first indicator index on the level of innovation and diversity for Spanish companies. Launched by the IE Center for Diversity and Fundación para la Diversidad, in collaboration with HP and Pfizer. All Spanish companies can already benefit from the application of electronic self-diagnosis, so that they can measure, compare, and find guidelines for improvement in their management of diversity for innovation, for free. The InnoDiversity Tree is based on solid academic research that measures these two differentiating elements (Innovation and Diversity). At the moment it is only available in Spanish and it is currently an exclusive opportunity for Spanish companies.